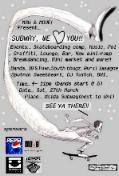 [above] - the event's poster
[above] - 'Mono' by Dotse (RAID). Work in progress..

[above] - Flex (IUC)
The 'Subway: We Love You' activity was the first major showcase for the Maltese urban underground. Taking place at the University Roundabout on the 27th of March, this activity was organised by MSU(Malta Skaters United) and Move! organisation and included skating competitions, live bands, breakdancing and graffiti.
The main aim of the event was to lobby in favour of the creation of a skate park in the University Roundabout. This would also include the first main legal area for graffiti.
'Subway: We Love You' was a major success with an estimated 500 people attending. Media coverage was excellent, such that a whooping 6 pages were dedicated to the event on the influential Manic! magazine. A video documenting the event is also said to be in the making by No Sweat Promotions!
The show kicked off with a skating competition and was followed by a live performance from punk band Avril Lasagne. Hiphop outfits IQ/Fuse and Southugz took the stage next, followed by the graffiti contest and yet another skating competition. Next came a great breakdancing show (i forgot your crew's name - sorry!) and finally performances by alt-rock band Sputnik Sweetheart and top Maltese punk band BNI..
Graffiti-wise, the event served as a meeting for Maltese writers and also as an inspiration to the young ones. 5 writers took part in the graffiti 'contest' : Dotse, Glow, Flex, Noise and Wak (and Mic?). Unfortunately, the writers were advised not to write their name since it was rumoured that plain clothes police would be going around (not really..!). Maltagraf was there too - selling quite an ammount of caps!
We can only hope that the outcome of this event would be positive.. Word is that the Msida Local Council has approved the development of the Skate park. MSU and Move! are now waiting for a go-ahead from the Transport Authority.. Build the skate park and give us some legal walls we say!
[above] - IQ and Fuse rocking the crowd..
[above] - the breakdancing show..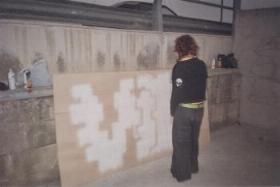 [above] - Glow (RAID) at work on her 'Vie' piece